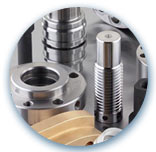 The bulk of the work in this NMT division comes from the automotive industry. Parts and components tend to be smaller within a range of materials that includes aluminum, brass, steel, plastic, and stainless steel.
Capabilities include:
machine very high volume parts in the 100's of thousands
ISO 9001:2000 Certified
For more information contact us.